I am best known for my competitive spirit and will to win.
I wear a few different hats … and they all fit.
-Attorney Victor Norris
From my earliest memory, I had to win or succeed at everything I did. Some may have said it was excessive. Whether in sports, school, or work, no one played, worked, or studied harder than me. There were no other options as far as I was concerned. I was just an all-in type of person in everything I did. This has served my clients well over the years. I care about my clients. I live and die with each case. I stop at nothing within ethical bounds to obtain the best result possible. No one can out work me.
As both a criminal defense attorney and civil litigator I live and breathe in an adversarial world. I'm good with that. I honed my trial skills early in my career as a Wayne County Assistant Prosecuting Attorney and Michigan Assistant Attorney General. I am not only comfortable in a courtroom; I seek to own it when in trial. I have handled countless criminal cases including felonies, misdemeanors, all things "vehicular' such as drunk driving and drug related offenses, negligent homicide, driver license matters etc. My job is to keep my clients charged criminally out of harms' way. My case results speak for themselves.
I obtained a verdict in excess of 2 million dollars in my first negligence jury trial.  My civil cases usually involve representing clients who sustain injuries due to another's negligence. The result in each type of matter can be life changing for the better or for the worse. Clients who are injured and victims of negligence deserve compensation commensurate with their injuries, pain and suffering and loss of earnings.
Regardless of what type of case, I facilitate my clients staying on track with their lives. I think of my clients as my friends.  Having credibility with many judges, prosecutors and opposing counsel inures to the benefit of my clients.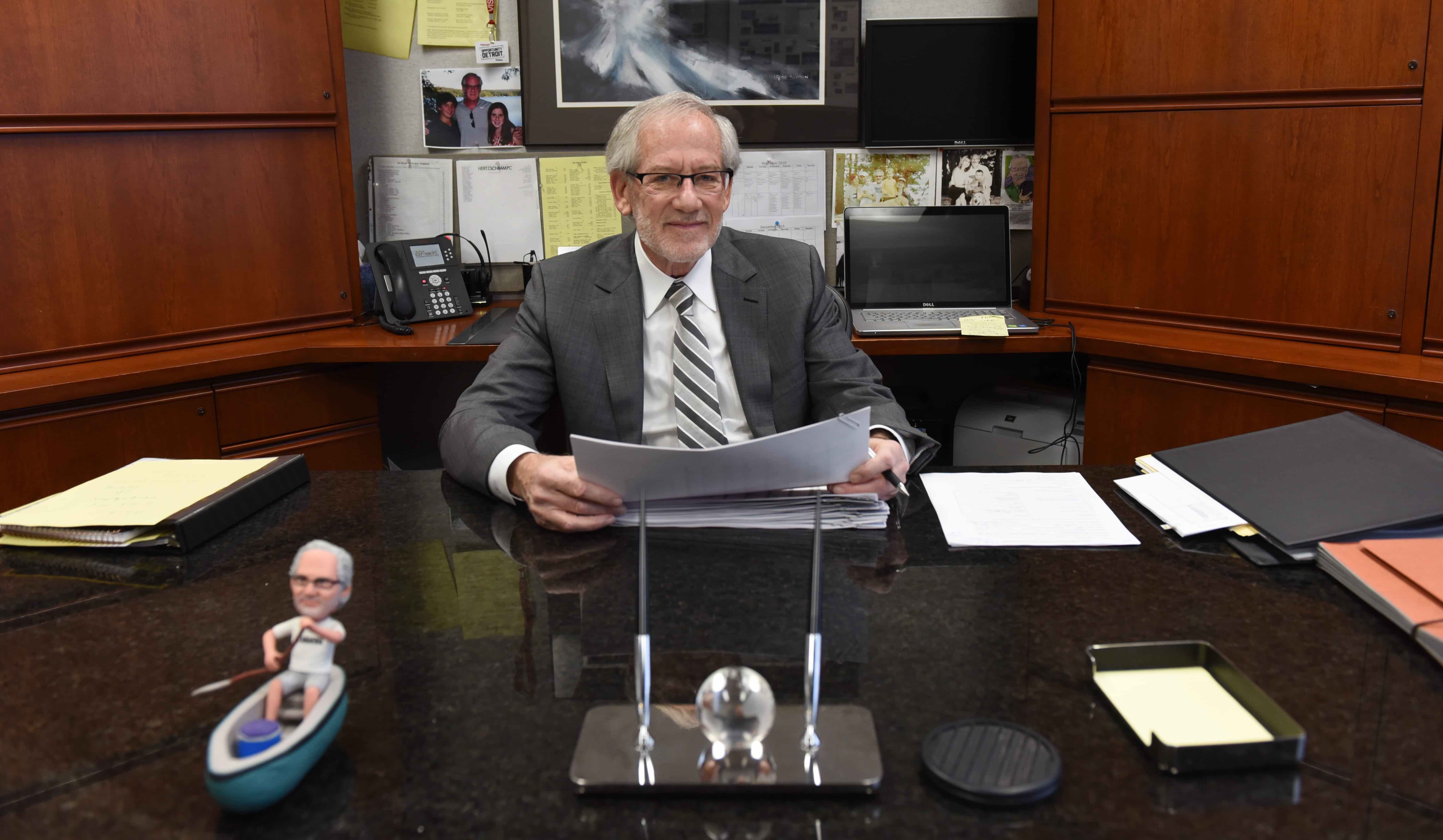 Managing Shareholder
Hertz Schram was founded in 1979 providing formidable representation to clients large and small. We are a unique full service "large firm in a mid-size suit" with expertise in 25 areas of both business and personal legal services, locally, regionally, and nationally. Each client and each matter is our greatest concern.  
We have earned awards for handling 200 million dollar mergers and acquisitions, received tens of millions of dollars in class action suits, multi-million dollar jury verdicts in injury cases, represent businesses of every size and persons charged with white collar crimes, all felonies and misdemeanors, even vehicular and OWI cases, full scope of  family law matters and all the other business and personal legal services detailed in this website.
Our main office is in the Hertz Schram building on the shore of picturesque Square Lake in Bloomfield Hills, MI. We also opened a satellite office in downtown Detroit several years ago when we sensed it was embarking on becoming perhaps the greatest urban comeback in the history of America. For many of our senior partners, we have returned to where it all began and where it's all beginning again. We are proud to be in Detroit again. It's a revived mecca of commerce, finance, real estate development, retail, dining and entertainment of every variety. Entrepreneurial spirit, businesses of every variety, community involvement abounds everywhere with countless opportunities for young people and a vibrant and fun place to work, play, and live. It's a miracle come true.  
I have proudly been the firm's managing shareholder since 1986 and responsible for every facet of firm management including day to day operations and long-term strategic planning. The list of my duties and responsibilities is endless (and boring to read and oftentimes to perform!).  I do, however, evaluate each matter prior to accepting representation, work with some brilliant lawyers, and mentor, train, and supervise our up and coming next gen attorneys. 
Meeting clients' needs, achieving their goals, managing expectations, delivering desired results, being efficient and cost effective, taking a vested interest in each and every client and matter are many of Hertz Schram's core values. I must lead and set the example for all attorneys and embrace these same core values in representing my own client matters.
We preach and practice… "don't ever take your focus off the client."

Meet Your Camp Legal Counselor
As invaluable as the camp experience and recreational endeavors are for the growth and development of our kids, there is risk. Most camps, however, manage those risks diligently, which is why they are among today's safest places for children's recreational activities. However, the sheer numbers of camper and recreational participants in North America can result in unfortunate injuries, drownings, or other catastrophic claims. Notably, in recent years, sexual, physical, emotional abuse of one kind or another has significantly increased.
Few people or attorneys truly understand the intricacies of running a summer camp or other recreational facilities. It is incumbent on camps to prioritize safety, emotional, mental, and physical health. Activities of every variety, some high risk and others not but all of which must comply with applicable laws and regulations and meet the applicable standard of care for each and every aspect of these venues and operations. Prosecuting or defending these claims is fact intensive.  
In addition to litigation services, I also offer expert witness services including claim review, evaluation, consultation, risk management and loss prevention services for claimants, injured parties, camps, other recreational operations, adventure endeavors, as well for insurance companies.